News and events
What we've been up to
Our mission
At Together First our mission is clear, together with the global community we aim to:
Step 1
Identify
Identify workable ways to address global risks and enable the whole world to join the conversation
Step 2
Prioritise
Prioritise the leading ideas to produce a 'to-do' list for the international
Step 3
Mobilise
Mobilise individuals, NGOs, states and businesses to make these solutions a reality
Join us
Do you support open, fair and inclusive decision-making structures?
Sign up
Dozens of organizations have already sign up with us globally
… and counting
Countdown to 2020
The UN's 75th anniversary in 2020 must be the starting point of global governance transformation.
Join us
Together First is campaigning for a multi-stakeholder summit to mark this occasion to discuss, adopt and initiate the reforms we urgently need, and to unite around a shared multilateral vision for the future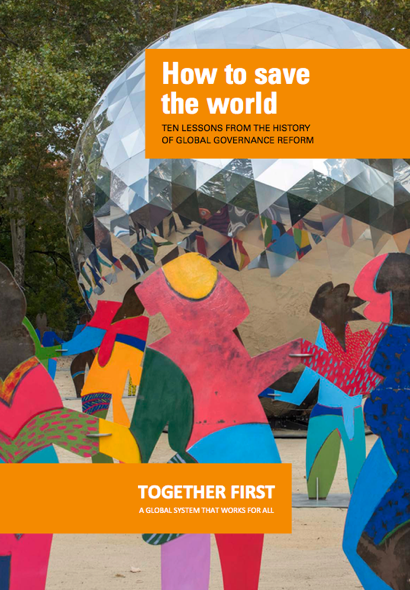 Publication
Download your free copy of Together First's latest report
Our report "How to save the World" accompanies our call for ideas and draws lessons from historical efforts of global reform.

Written by Sam Daws, a UN expert based at Oxford University, this report identifies 10 key barriers to implementing global solutions and the strategies for overcoming them.
Submit a proposal
Together First is a growing movement of global citizens committed to making the best ideas for global governance a reality.
Submit a proposal
Join the conversation
Check out the latest and spread the word.